Classes of 1961 - 1970
Riviera Beach
High School
In Memory
Linda Stocum (Studer) - Class Of 1969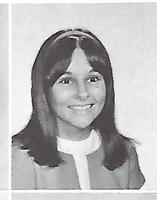 This is Scott Studer posting my first and last Facebook post on Linda's page.
My wonderful, loving wife of 47 years left this life and went to paradise on November 4, 2020 at 1:43 PM.
You will not find a finer biblical example of a sister, wife, mother, and grandmother than Linda. Her years of dedicated service has touched the lives of hundreds of people. From her baptism in May 1973 when she was added to the Lord's church, her biblical principles continued to strengthen her. Her example was manifested in her two sons which have been deacons and one an elder in the church, to the baptism of four of her grand children. Her daily example has been seen by so many.
Her visitation and memorial service will be at the Palm Beach Lakes church of Christ on Saturday afternoon November 7th. More details will be available soon.
We look forward to some day being with her in eternity.
Love,
Scott