Classes of 1961 - 1970
Riviera Beach
High School
In Memory
Loralee Bernard (Burditt) - Class Of 1963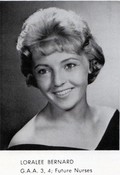 Deceased Classmate: Loralee Bernard Class of '63
Date Of Birth: 7-8-1944
Date Deceased: 4-8-2012
Age at Death: 67
Cause of Death: Cancer
Classmate City: Carthage
Classmate State: TN
Classmate Country: USA
Survived By: Children Julie Brunner, Kenny Houck and Brian Burditt. Sisters Helen Bernard Schadlick, Loretta Bernard Rogers and Daniel Bernard.

Loralee was a wonderful artist and loved to hike and camp in the mountains of Tennessee. She loved all animals and had a heart as big as gold. She will be sorley missed. RIP.
Mrs. Loralee Frances Burditt, age 67 of Carthage, TN passed away Sunday, April 8, 2012 at University Medical Center in Lebanon, TN.
Mrs. Burditt was born July 8, 1944 in Albany, NY the daughter of the late Leo Martin Benard and Loretta Mae Kirker. She was an avid artist that enjoyed painting. She lived life with a compassionate heart, leaving her home open to many friends and animals in need.
Mrs. Burditt is survived by Three Children; Julie Bruner, Kenny and Miranda Houck, and Brian Burditt. Sister; Helen Shadlick, Sister; Loretta Rogers; Brother, Danny Bernard. She is also survived by eight grandchildren and one great grandson.
Mrs. Burditt will be Cremated and Memorial Services will be held at a later date.