Classes of 1961 - 1970
Riviera Beach
High School
In Memory
Elaine Campbell (Staley) - Class Of 1964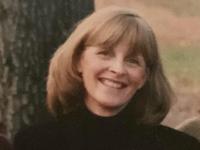 Elaine Campbell Staley died peacefully at home with family by her side on March 31, 2020, after a long, brave battle with breast cancer. She is survived by her three children Kimberly Barkhamer (Greg), Magen Oswald (John), and William Staley III (Janelle); six grandchildren Alexander Barkhamer, Dylan Barkhamer, Jack Oswald, Benjamin Oswald, Willoughby Staley, and Penelope Staley; two sisters Sandra Murphy (James) and Sheila McMinn (Randall); and one brother David Campbell (Ann). She is predeceased by her parents Nelson Ceylan Campbell and Nettie Mae Campbell (nee Sharpstein).
Elaine was born in Brockport, New York, and moved to Florida at the age of 15. She attended Riviera Beach High School in Riviera Beach, Florida, and remained close friends with many of her classmates for over 50 years. This group of incredible women and men were like extended family. "The Group" was steadfast in their friendship and provided each other with many years of joy and laughter. She loved each of them like family.
Elaine loved dancing, singing, reading, and a good ole fashioned who-done-it mystery movie. She was a very hard worker, a stylish dresser, excellent writer, and a devoted friend with a beautiful smile. She was kind and courageous. She was also one tough cookie; admired by many for her remarkable resilience and grit. She was smart, independent, and strong, and she would remind you that you could do anything you set your mind to. She loved sunlight, always flinging the curtains wide open to let in as much as possible. And that's what she was to so many people throughout her life, a light when they needed it.
Most of all, she was a loving and generous mother and grandmother. She supported her children though every twist and turn, new adventure, and wacky hairdo. She was always ready to listen or to help. As Nana, she went out of her way to make sure each grandchild knew she was proud and always thinking of them. She sent cards, text messages, and gifts. She attended performances. She flew all over the country to visit them, and without a doubt made each of them feel like the best part of her day.
She will be missed by so many. A special memorial service will be held when it is safe to do so. Information will be listed on this website and sent via email to those requesting it. Elaine loved flowers and her family would like to have as many arrangements as possible at her service. Please check back for details.
https://everloved.com/life-of/elaine-staley/obituary/?flow=201