Classes of 1961 - 1970
Riviera Beach
High School
In Memory
Eric Seidel - Class Of 1963 VIEW PROFILE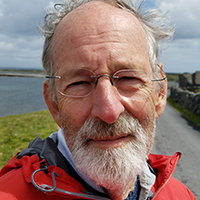 Eric Robert Seidel was born to William Robert Seidel and Patsy Ruth Hursey Seidel on April 14, 1945, in Clovis, New Mexico. He grew up with younger sisters Sue and Beth in Riviera Beach, Florida and spent summers on his grandparents' farm in Worthington, Ohio. He attended Michigan State University before enlisting in the Navy for a Mediterranean tour as ship's clerk. In 1969 he married Ann Moulton. In the 1970s Eric fell in love with the Vermont landscape, and it became his beloved home state. He and Ann built their home in the Berlin woods, gardened, helped found the local co-op, and had one daughter, Lynn, before separating in 1988.
In 1980 Eric started working at the New England Culinary Institute (NECI) in Montpelier, designing and managing kitchens and many other spaces there, in Essex and Burlington. Eric helped NECI weather the 1993 flood and other challenges, eventually becoming Vice President of Facilities before retiring. Eric appreciated gourmet food but also donuts and ice cream. Although he wore a tie to work for decades, he was happiest in jeans.
Eric served at various points on the city's Design Review Committee and Montpelier Alive board and was pro-bono project manager designing the new commercial kitchen at the Montpelier Senior Activity Center. He volunteered for the Green Mountain Club, leading groups on hikes, maintaining trails, and building shelters along the Long Trail, notably on Camel's Hump and near Sterling Pond. He served on the GMC Board and was recognized with an award for dedicated trail work.
In 1992 he married Donna Russo and became stepfather to Jeff, Jeremy, and Janna Carpenter. Eric and Donna's life together included a shared love of travel, music, hiking, biking, paddling, camping, gardening and improving the landscape around their Middlesex home. He quarried slate, built stone walls, planted trees, enjoyed bird-watching, and maintained a challenging rural driveway. The Middlesex woods were his solace whether harvesting wood or walking the trails.
Eric treasured time with family, including visits from Lynn and her husband Edwin, and larger family gatherings. He was generous in helping with home renovation and farm projects, and he kept up a loving banter with Jeremy for years. His grandchildren christened Eric "Gumpy." He shared his wisdom, humor, and presence with them whether enjoying outdoor adventures or witnessing their antics.
Eric was an avid reader of history, biography, and natural science. He had a lifelong love of classical music and savored Cape Breton and Quebecois Celtic traditions later in life. He greatly enjoyed the guitar music of his son-in-law, Edwin Munera. Eric had a special skill for successfully tackling projects, designing or building model ships, furniture, and multiple homes. His commitment to cutting, moving, and stacking firewood was a meditative practice and strategy for maintaining health. One unfinished challenge was his goal to kayak, with Donna, the entire shoreline of Lake Champlain; they completed 500+ miles.
In retirement, Eric and Donna lived in Vermont and Arizona. In Tucson they added new friends and were active members of the Arizona Land and Water Trust and the Archeology Society. They travelled to Europe, the British Isles, Norway, Eastern Canada, and many U.S. National Parks. Eric's final trip in 2019 was to revisit parts of Italy and Malta — a port of his Navy years.
In his final years, Eric suffered from dementia, Parkinson's, and ALS. While weathering the pandemic, his last year and a half of declining health was supported by Donna's presence at his side. She made his favorite meals in their Marana home where he had visits from and Zooms with friends and family, a network of skilled caregivers, VA and Mayo Clinic health care providers, and the Casa de la Luz hospice team. Eric's loved ones are grateful to all his caregivers. Eric's gentle and humble spirit left a deep impression on those who spent time with him at any time in his rich life. He will be deeply missed by those he leaves behind.
Eric was predeceased by his parents. He is survived by his wife Donna Russo, daughter Lynn Moulton of Watertown, Mass. (son-in-law Edwin), stepson Jeff Carpenter of Hyde Park, Vt. (daughter-in-law Melanie, granddaughter Lily), stepson Jeremy Carpenter of Montpelier, stepdaughter Janna Clar of Montpelier (former husband Dan [a special friend to Eric], grandchildren Russell and Ada), sister Sue Ross (nieces Jennifer and Cara), sister Beth Henson (brother-in-law Doug and nephews Jason and Patrick). Eric leaves many dear friends to whom he remained connected.
Memorial gatherings will be held in Central Vermont and Tucson in the Fall. Donations can be made in Eric's memory to the Green Mountain Club in Vermont or the Arizona Land and Water Trust.
https://montpelierbridge.org/2021/07/obituary-eric-seidel-april-14-1945-july-6-2021/
Click here to see Eric's last Profile entry.