Classes of 1961 - 1970
Riviera Beach
High School
In Memory
Diana Huberty (Liebla) - Class Of 1963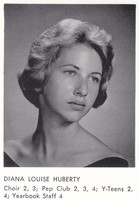 Diana Louise Liebla, affectionately known as Yaya or Nana, passed away following a brief illness on May 31, 2017 in West Palm Beach, Florida at the young age of 71.

Diana is survived by her husband Stanley Liebla and two children, Kurt Liebla (Stacey Liebla) and Kelly Patrick (Michael Patrick); grandchildren Shannon Patrick, Mikaela Kussler, Codie Liebla, and Riley Patrick, all of West Palm Beach, FL; her sister Judy Christian (Robert Christian) of Salem, South Carolina; nieces and nephew Diana Winuk and Robert Christian of Salem, South Carolina, and Debbie Schaan of Beaumont, Texas, as well as lifelong friends Lynn Foley of West Palm Beach, FL, Sheila Conway of Madisonville, Kentucky, Cathy Moore and Chuck Shaw of West Palm Beach, and many, many others. She is preceded in death by her mother Wilda Eileen Martens of Riviera Beach, FL.

Diana was born on July 30, 1945 in Canton, Ohio to Wilda Eileen Bowman and Ralph Huberty. She graduated from Riviera Beach High School in 1963 and worked for Southern Bell Telephone as an operator. She married Stanley Liebla in 1966 and they moved into their forever home June 1, 1967, the day their first child was born. They continued to live in this home loving their children and grandchildren for the past 51 years.

Diana was a stay at home mom while her children were in school. During this time, she worked to instill lifelong values and morals of hard work, love, kindness, and unselfishness. Her involvement in Unity of the Palm Beaches was at the core of her being and helped to guide her family. Some of the things she was most passionate about were, of course, her family and friends, the Kilowatts service organization for FPL, raising greyhounds, the Girl Scouts (leader and cookie chairman), being a Youth of Unity sponsor and member of Unity of the Palm Beaches, volunteering at Berkshire Elementary school, donating to a variety of non-profit organizations, keeping current on world events, and volunteering at the Palm Beach County Youth Football League where she served as the treasurer and member of the Board of Directors for nearly 30 years.

Diana was also a hair dresser for more than 35 years, working in many salons and making lifelong friends along the way. She was a generous and dedicated friend. It was not uncommon for her to travel to someone's home to do their hair if they couldn't make it to the salon or to adopt one who needed a family. One of her greatest pleasures was working her crossword puzzles on her back porch while enjoying her coffee and all the birds that would visit. But nothing made her happier than the special time she spent with her four grandchildren. She was an integral part of each of their lives and enjoyed being so close to them.

A celebration of life is scheduled for June 24, 2017 at Lynn & Bill Foley's home at 3158 Riddle Road, West Palm Beach, FL. The celebration will be from 5-8 p.m. with a service at 6:00 p.m. All are welcome to attend and celebrate Diana's life. In lieu of flowers, please send donations to a charity of your choice. Some of her favorites were The St. Labre Indian School in Ashland, Montana, St. Jude's Children's Research Hospital, Habitat for Humanity, Boys Town, and USO.
http://obits.dignitymemorial.com/dignity-memorial/obituary.aspx?n=Diana-Liebla&lc=5248&pid=185680315&mid=7430828