Classes of 1961 - 1970
Riviera Beach
High School
In Memory
Michael W. Wood - Class Of 1961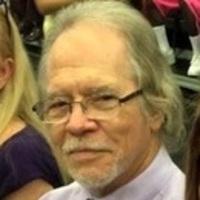 Michael W. Wood, age 76, of West Palm Beach, Florida passed away on November 22, 2019. Michael was born in Carthage, Missouri on November 18, 1943. He was predeceased by his parents, Wayne (woody) Wood and Esther O'Geal; sister Kathy Wood Hurd, his son Mickey Wood; Mr. Wood is survived by his wife of 35 years, Rebecca Hager; children, James Wood, Dialonna Worling (Matt), Jordan Beaulieu (Dan), Chandler Wood; his lovely grandchildren Alex, Maggie, Jack, Adelyn, Jadin, Caleb, Jude and Silas; sister Pat Wood Dye (Danny). Michael was a 1961 graduate of Riviera Beach High School. He attended Emory and Florida Atlantic University. He was a teacher at Forest Hill Community High School where he taught senior English classes for many years.

A Memorial Service will be held at 6:30 PM on Tuesday, December 10th, 2019 at Grace Chapel, 16569 Southern Blvd; Loxahatchee, Florida, the Rev. Bryan Rosenbarger officiant.

On a personal note, Mike was blessed with good looks, academic brilliance, and a quirky, razor sharp wit. He was gifted musically and was active in the RBHS Band program and was the drum major. He graduated from Florida Atlantic University and pursued doctoral studies at Emory University. For many years, he taught English at Forest Hill Community High School.