Classes of 1961 - 1970
Riviera Beach
High School
In Memory
Charles B Syfrett - Class Of 1965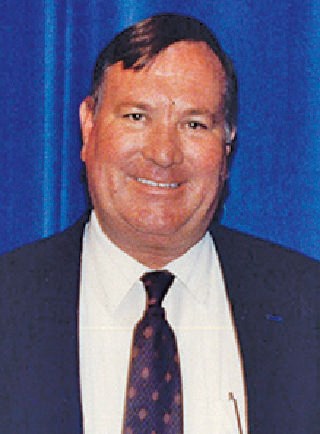 Charles B. "Chuck" Syfrett passed away April 8, 2022.

He was born January 6, 1947, to Otto Charles and Margaret Syfrett in Richmond, Virginia.
They lived in Miami until 1956 when his father built and established Syfrett Feed Company in Lake Park, Florida. Chuck graduated from Riviera Beach High School and Abraham Baldwin Agricultural College. In 1967, he enrolled in the University of Florida, became a member of Sigma Chi Fraternity and majored in Business Management and Animal Science. In 1970, he moved back home to work with his father, helping the family business to succeed and grow.

In 1971, he married Linda Taylor. They moved to Okeechobee in January 1977 where he and his father built a new and more modern feed mill.

Chuck enjoyed being an active member of his local and business community. He was Chairman of the Okeechobee Development Authority that built the airport terminal and expanded the industrial park. He truly enjoyed many friendships as a member of Kiwanis and his opportunity as President. He appreciated his time spent serving on bank boards, The South Florida Fair Board of Trustees, the Florida Cattlemen's Foundation, The University of Florida Gator Booster Board, and especially the SHARE Council of IFAS, a part of the University of Florida, College of Agriculture. He was named SHARE Council Volunteer of the Year in 2009 after collecting donations of over $100,000 to build facilities at the Ona Experiment Station to study pastures and forages for cattle. He was also named Friend of Ona in 2018. He saw a need to make an impact in the Florida Legislature and became President of the Florida Feed Association. During those years, he traveled to Tallahassee to educate legislators to better understand the feed industry and agriculture.

Chuck developed and enjoyed Syfrett Ranch. It was his respite place where he could relax and appreciate being outdoors with the cows he loved. He took great pleasure in increasing the health and productivity of the herd.

Chuck is survived by his wife, Linda; daughters, Melissa and Jill; son, Charles and daughter-in-law, Frankie; grandchildren, Kathryn, Evan, Juaquin, and Charles Alan; brother, Dick Syfrett; and step-mother, Fran Syfrett.

Chuck and Linda enjoyed traveling and attending Gator football and basketball games. In one eight year period, they never missed a football game home or away that included every stadium in the Southeastern Conference. Chuck was awarded a Certificate of Recognition of over 40 years of membership and support of Gator Boosters, Gator Athletics and his commitment to the education of student-athletes. The Gators have a new cheerleader in heaven.

Visitation will be 4 p.m. to 7 p.m. Thursday, April 14, 2022 at Buxton & Bass Okeechobee Funeral Home. Funeral services will be 10 a.m. Friday, April 15, 2022 at First United Methodist Church. Interment will follow at Evergreen Cemetery.

Those wishing to leave a message of condolence may sign the register book at, www.OkeechobeeFuneralHome.com

All arrangements are entrusted to the direction and care of the Buxton & Bass Okeechobee Funeral Home, 400 North Parrott Avenue, Okeechobee, Florida, 34972.
Published by Lake Okeechobee News and SouthCentralLife.com on Apr. 13, 2022.
https://www.legacy.com/us/obituaries/newszapfl/name/charles-syfrett-obituary?id=34229066