Classes of 1961 - 1970
Riviera Beach
High School
In Memory
Connie L. Middleton - Class Of 1968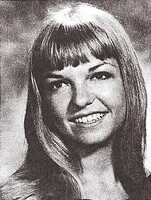 Deceased Classmate: Connie L. Middleton
Date Of Birth:
Date Deceased: 02-25-2004
Age at Death: 53
Cause of Death: Cancer
Classmate City: Richmond
Classmate State: VA
Classmate Country: USA
Survived By: Loving parents, Mr. and Mrs. R.G. Middleton in Palm Beach Gardens, as well her five siblings, and four, cherished adult children.

How good it was to read comments about my two sisters in your website. Yes, as a younger sister, I recall they were all that has been said. And more. My sister Cathy switched from Modelling to Ministry where she continues to live in NYC and can be googled as: Cate Capozzi. My sister Connie was an accomplished actress both in college and community plays, having attended; USF, Hillsborough JC, FAU, Mercy College, College of New Rochelle, Manhattanville, and lastly, Columbia Univ. where she recieved her MMSW in 1996. She was an entrepreneur/owner of a small gift shop named 'Sisters', bred yellow Labradors, raised four amazing kids... Connie was a voracious reader, avid gardener, and amazing knitter. She knitted an amazing and beautiful volume of purses during her long and valiant fight against cancer. Although the deadly C-monster robbed her of a long life, it can never take away the legacy of her love and life lived to the fullest. We miss her, but share her ardent faith in Christ, that through HIM and HIS undeserved advocacy for us, we will enjoy eternal life together when these earth lives are finished.