Classes of 1961 - 1970
Riviera Beach
High School
In Memory
Karen Vaughn (Gunther) - Class Of 1968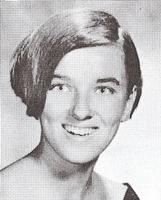 Obituary
Karen Vaughn Gunther our mother, our Gma, our Gigi, 71, passed away peacefully on June 13, 2022, in her home in Palm Beach Gardens, Florida. Karen spent most of her amazing life in Palm Beach County, always surrounded by her loving family, having four siblings: Sharon, Carl, Keith, and David; three children: Kelly, April, and Hart; eight grandchildren: Dalton, Madison, Torie, Kenny, Tia, Trevor, Riley, and Haylen; and two great grandchildren: Kailer and Maverick. Karen is preceded in death by her parents, Marian and Carl Vaughn; her sister, Sharon, and her granddaughter, Torie.
Karen's positive energy was contagious. Even while fighting cancer for two years, she persisted in her enthusiasm for life. She remains an inspiration. Every day she paid it forward, giving of herself to others. She loved experiencing the sunrise at the beach, catching a wave on a surfboard, riding a Harley on the Blue Ridge Parkway, hiking Machu Picchu, kayaking on the local waters, and most of all, being a spiritual person with her children and grandchildren. She was a successful businessperson, owning Southeast Heavy Duty Sales. With over 35 years in the Heavy-duty trucking industry, she believed in doing business on a promise and a handshake.
Karen's life will be celebrated on Monday, June 27, 2022, 7:30am, at Jupiter Beach Access Point 25, her favorite spot in which she spent many mornings walking the beach with family, discussing life, sharing memories, and the appreciating the simple beauty of nature. In lieu of flowers, Karen would encourage everyone to take a moment out of their day and "Pay It Forward" in the life of a stranger or a friend. Because that's who she was and how she lived her life every day.
Posted online on June 26, 2022
Published in The Palm Beach Post
Service Information
Celebration of Life
7:30AM Jupiter Beach Access Point 25