Classes of 1961 - 1970
Riviera Beach
High School
In Memory
William Smedberg - Class Of 1968
April 24, 2018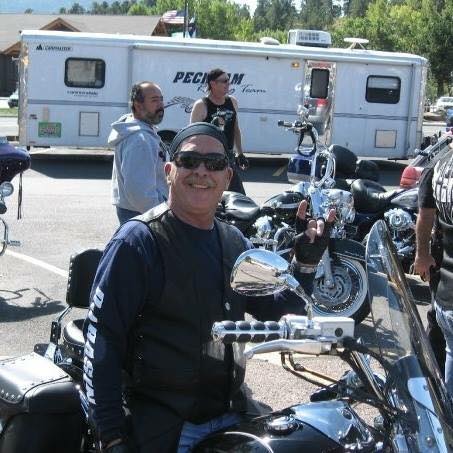 Matthew Ryan is feeling lost with Bill Smedberg and Pamela Smedberg.
To my best friend and dearest father, I am so lost without you right now, and as always I know that you will help continue to guide me through this troublesome time. I promise to you as I always have that I will not let anything happen to mom. I will never forget walking into the ER room and seeing you. Mommy hit the nail on the head, sometimes people with broken hearts pass, well your heart was with Krystyna Marie in heaven and it was time for you to go be with your daughter. I don't look at this time as you leaving me and mom, but better yet you know I am strong enough to take care of mom and you needed to make sure that my sissy is safe in heaven. Thank you so much for the man that you turned me into, and for all the life lessons that you gave to me. I don't know where to turn now for advice since your gone, but I promise to live and love like you taught me. I know that you have been proud of the man that I have become, but you shouldn't be proud of me but rather be proud of yourself and the man that you formed me into. Give sissy a hug and kiss for me just like I gave to you. Until I see you again, I love you with all my heart. Rest easy daddy.
Night night, sweet dreams, god bless i love you, whole lot, so much, whole bunch
Rat
Born:
April 10, 1949:: Southington, Connecticut
Passed Away:
April 23, 2018:: Denver, Colorado
Celebration of Life Service
Monday, May 14, 2018, at 1:00 p.m. Northgate Event Center 3880 South Lowell Blvd. Sheridan, Colorado
Private Military Honors service will be held at Ft. Logan National Cemetery.
William (Billy) Mason Smedberg, born on April 10, 1949, in Southington, CT passed away on April 23, 2018, in Denver, CO. William was married for 38 years to Pamela Ann Smedberg.
He was honored to serve his country in the US Navy from 1969-1972 and earned the rank of PO3 as GMG3. During his service, he earned the Vietnam Service Medal with One Bronze Star.
William is survived by his wife Pamela A. Smedberg, Sister Donna Lynam, Brother Robert Smedberg, Son Matthew Smedberg, Daughter Kiersten Evergreen, Son Lee Scott, and Son Bryan Scott.
William was a wonderful husband, father, friend, and teacher. William will be dearly missed; as we loved his smile, wisdom, and guidance. We are all truly blessed to have had him as ours. His patience and loving attitude will forever be written on our hearts and passed down from all he graciously touched.
A private Military Honors ceremony will be held at Ft. Logan National Cemetery on Monday, May 14, 2018.The public is welcome to attend a Celebration of Life at 1 p.m. at Northgate Event Center located at 3880 South Lowell Blvd, Sheridan, Colorado
In lieu of flowers please send any donations to the Veterans Affairs.