Classes of 1961 - 1970
Riviera Beach
High School
In Memory
Crystal Carlin (Danforth) - Class Of 1963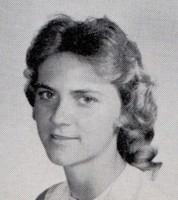 Deceased Classmate: Crystal Ann Carlin Danforth
Date Deceased: June 24, 2010 Age at Death: 65
Cause of Death:
Classmate City: Okeechobee
Classmate State: Florida
Classmate Country: USA
Survived By: Husband, William Danforth, Mother, Regina Carlin; & recently deceased Father Neal Carlin. Brother,Neal Carlin, Sister, Carla Carlin, Daughter, Christina Scholtes & Hsb. Paul
Daughter, Kara Mendez & Hsb. Michael, Granddaughters, Olivia and Sophia Mendez.

Crystal was one of our Majorettes and a member of the 61 Florida State Twirling Champions.
Family-Placed Obituary
CRYSTAL ANN CARLIN DANFORTH Crystal Ann Carlin Danforth, age 65, a Florida native was a beautiful young vibrant woman who unexpectedly left to be with our heavenly Father on June 24, 2010. She was a devoted wife, daughter, sister, mother, grandmother, and friend. She is survived by her husband, William Danforth; mother, Regina Carlin; recently deceased father, Neal Carlin; brother, Neal Carlin (Shelli); sister, Carla Carlin; daughter, Christina Scholtes (Paul), daughter, Kara Mendez (Michael) and granddaughters, Olivia and Sophia Mendez. She is dearly missed and will never be forgotten. Services on Friday, July 2, 2010 at 2:00 PM, at St. Clare's Catholic Church 821 Prosperity Farms Road, North Palm Beach To express condolences and/or make donations Visit
PalmBeachPost.com/obituaries
Published in The Palm Beach Post from June 30 to July 7, 2010
- See more at: http://www.legacy.com/obituaries/palmbeachpost/obituary.aspx?n=crystal-ann-carlin-danforth&pid=143851689#sthash.0J9CIS1V.dpuf
Family-Placed Obituary

CRYSTAL ANN CARLIN DANFORTH Crystal Ann Carlin Danforth, age 65, a Florida native was a beautiful young vibrant woman who unexpectedly left to be with our heavenly Father on June 24, 2010. She was a devoted wife, daughter, sister, mother, grandmother, and friend. She is survived by her husband, William Danforth; mother, Regina Carlin; recently deceased father, Neal Carlin; brother, Neal Carlin (Shelli); sister, Carla Carlin; daughter, Christina Scholtes (Paul), daughter, Kara Mendez (Michael) and granddaughters, Olivia and Sophia Mendez. She is dearly missed and will never be forgotten. Services on Friday, July 2, 2010 at 2:00 PM, at St. Clare's Catholic Church 821 Prosperity Farms Road, North Palm Beach To express condolences and/or make donations Visit PalmBeachPost.com/obituaries
Published in The Palm Beach Post from June 30 to July 7, 2010 -